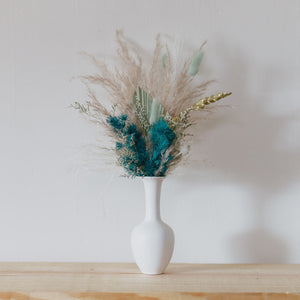 Lush blue & teal hues set Pacifica apart from everything else in the room. Featuring vibrant shades of the sea with hints of neutral hues to represent the sandy ocean floor. Bring Pacifica into any space for your favorite sea lover. Pacifica comes in a White Semi-Glossy vase, measures in at 6' H x 3' W, made of clay porcelain.  Delivery unavailable 2/14-2/16/22.
Available for local delivery in
Louisville, KY
or available for shipping in the U.S. only.
Anything placed after 2/2 will ship within normal time frames. P
lease allow 4-5 business days for your order to be designed, packed, and delivered/shipped.