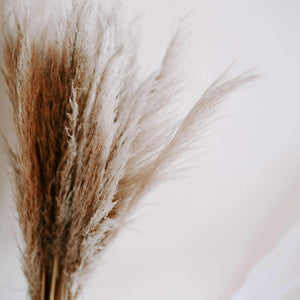 Our Preserved Pampas Grass comes with five plums (stems) in a neutral tone. Each plume will vary in size, fluff, and color. Each plume measures around 3-4 ft tall, but will vary.
Shipping available in the U.S only.
Once placed/styled in your desired vase, use a lightweight hairspray and lightly spray from 2-3 feet away from the Pampas Grass, this will help keep the pampas in place and avoid excess shedding. Shedding will still slowly occur overtime.
These can be trimmed down to your desired height if needed for a shorter vase.